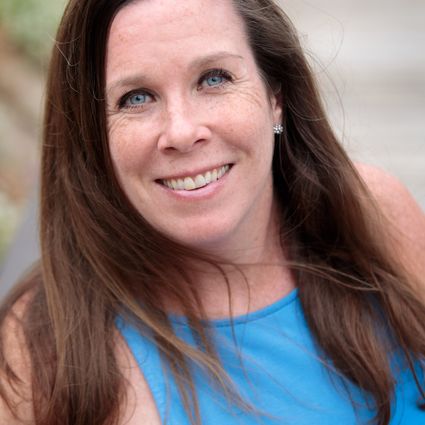 Kathy Tracey
Founder and REALTOR®
A little about me
and why I love real estate
If Kathy has a super-power, it's the ability to make connections between people and cause things to happen. This innate trait of Kathy's has helped her make connections for more than 60 home buyers and sellers in only a few short years since founding the Greater Reston Living real estate team with her husband, Graham.
Kathy has always had an entrepreneurial streak in her as she ran a small yard-sign business for 20 years while raising her two children (Jack and Claire, now grown) in Herndon, Virginia. At the same time, Kathy became deeply embedded in the community, volunteering at the kid's schools, competing in local triathlons, collecting suits and dresses for Irene's Prom Closet, and engaging with the Reston YMCA community.
Over the years, Kathy has been recognized for her contributions to both her community and to her business. In 2017 she won the Jim & Karen Cleveland Partnership Award through the YMCA of Metropolitan Washington for demonstrating exemplary leadership in the community and most recently she was named to the YMCA Reston's board of directors. After joining Keller Williams Realty in Reston, VA she won the Caught in Culture Award (2018) and was named the Keller Williams Cultural Ambassador for the Virginia and West Virginia region.
Kathy's passion for bettering her community combined with her unbridled energy has helped to propel the Greater Reston Living team to become one of the fastest-growing real estate teams in Keller Williams Virginia Alliance Group.
Kathy earned a Bachelor's of Social Work at Monmouth University, NJ. When she isn't working or volunteering in the community, you will find Kathy glued to her Peloton, kickboxing with friends, running a local race, hiking with Graham, or at a brewery with family and friends.
Our clients are awesome
and here is what they are saying about Kathy
"Kathy did an amazing and thorough job! Can't recommend her enough! Just when you're feeling overwhelmed with ALL those documents and signatures, she makes you feel at ease. Professional and extremely knowledgeable! She was there for us during the entire process."
Emily L.
Kathy did an amazing and thorough job!
"Kathy Tracey, our realtor, is a GEM!! We met her and knew immediately that we were in good hands for our home search and buying process. Within four days of beginning our search, we had a contract on the home of our dreams. She quickly facilitated a few obstacles, mostly because of the crazy seller's market, and kept us informed of all developments. She communicated everything in a manner that kept us knowledgeable about the process until and through our closing. Now we don't just call her our realtor, we call her our friend. Thank you Kathy, and we're so happy you came into our lives at exactly the right time!"
"Kathy is great! She is one of the most responsive realtors I've ever worked with. She is super responsive and willing to do virtual sessions on new homes and make sure we get the first look... Time is of the essence in this market and she really understands that. She definitely goes the extra mile to keep everything moving. She has a great time around her to help with settlement and also, financing. Most agents drag their feet, she does not...Really helpful and knowledgeable about the market. I would recommend her for my friends."
Bill C.
Goes the extra mile!
"I'd always been a homeowner, until 2015 when "life changes" happened and required me to rent for a while. One year turned into 5 and I thought I'd never be able to own a place of my own again. Enter…Kathy Tracey and the team at Greater Reston Living! After a chat at Starbucks one day, Kathy was able to help me see that my dream of home ownership was an actual possibility! With rates so low, it was worth exploring the idea, and thus our journey began. One year and MANY property tours later we found the elusive "Unicorn" I had been looking for. The right location, the right features, upgrades, and storage galore! We found a property that has all the convenience of maintenance free condo living, with the charm of a little cottage at the beach (only without the beach). During the course of our journey Kathy demonstrated the 4 P's of what you want in a Real Estate partner…Professional, Positive, Persistent, and Patient. I appreciated her encouragement and positive outlook as inventory came and went, as well as her no-pressure approach as I cautiously navigated the landscape and evaluated my options. I knew what I wanted, and I wasn't going to settle for just anything. When the planets aligned and the right property presented itself, Kathy was on top of every document and detail required for making the offer, scheduling inspections, and helping me prepare for settlement. I've been in my "Unicorn Cottage" for nearly a month now, and I love it more each day! I can't thank Kathy Tracey and her team enough for helping me find a place that I can call my own, and where I will be happy for a very long time!"
Joan A.
Professional, Positive, Persistent, and Patient
""Best realtor you can get!! Kathy has been my realtor twice already. She helped me find a rental place a couple of years ago and a home to buy in the summer of 2021. Together, we went through an amazing journey of exploring NoVA neighborhoods. We've seen a lot – from cute, to odd, to amazing, to scary. But what a fun journey that was. Through that experience Kathy has helped me understand what is the home that would make me happy and what part of NoVA would be the best fit for me. But that was but a start. Finding the right home in the intense COVID market was more than a challenge. Kathy navigated the market with vigor and grace. She supported me in the days I got discouraged and demonstrated unbelievable investigatory skills while contacting listing agents. Now, that I am a happy new homeowner I want to praise Kathy for her dedication, professional understanding of the market, great communication skills, and a fantastic sense of humor."
Marina D.
Best Realtor you can get!!
"I can't imagine going through the home buying experience without Kathy and Graham. Kathy was everything you could ask for in a realtor – personable, flexible, and extremely responsive. As a first-time home buyer, she and Graham made sure I understood the ins and outs of the process. Their combined knowledge and insights were extremely valuable and put me at ease throughout what could have been a very stressful experience. I cannot recommend this duo enough! Thanks, Kathy and Graham, for helping me find my dream home!"
Kate D.
Kathy was everything you could ask for in a Realtor!
"Kathy Tracey was amazing to work with! She handled the selling our father's house with respect, dignity, and was so incredibly helpful. I am in a different state and she worked around my schedule and always answered my questions promptly. If anyone is selling or buying a home I HIGHLY recommend working with Kathy. I could not be more thankful for how smoothly this whole process went with Kathy by our side!"
Julie L.
Amazing to work with!
"Kathy is wonderful! She patiently showed us several great properties (not easy because of my mobility restrictions) and when we said we liked another place we had found before meeting her, she represented us with the broker and got the deal DONE. I highly recommend Kathy and Greater Reston Living to anyone who needs a truly professional Realtor!"
Gisele
Patient and wonderful!